Anna-Karin Karlsson Claw Voyage Gold Grey Lens Limited 1st Edition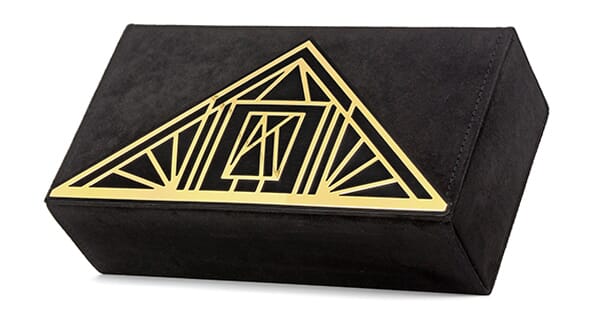 The 'Into the Night' Collection - taking you from sunlight to starry skies; from day play to night games; from dusk to dawn. Featuring crystal-encrusted designs fitted with lightweight and exquisite Zeiss lenses, the collection is designed to be worn throughout the day and well into the night.

The Claw Voyage aviator sunglasses embody the spirit of the collection, beautifully juxtaposing delicate colour palettes with unexpected, edgy detailing. The frame is crafted from lightweight and durable 24 carat gold-plated Japanese titanium, fitted with grey gradient Zeiss lenses. Each temple is strikingly adorned by a delicate 3-clawed hand, hand-finished with 24 carat white gold plating.

Anna-Karin Karlsson collections are created for an exclusive audience, and designs are produced in only 20-150 pieces worldwide. This Limited First Edition frame numbers 8 of only 80 created, and comes with a hand-numbered certificate of authenticity.

Anna-Karin Karlsson is known as the world's leading brand for luxury eyewear. The company is based in Sweden, and the designs are sold in more than 50 countries worldwide. In just a few short years, the Anna-Karin Karlsson brand has produced instant classics, while at the same time pushing the boundaries of haute couture eyewear. The name is now synonymous with lavish glamour, contrasting sharp lines and strong accents with an ultra-feminine aesthetic. The designs are executed only through the highest standards of hand-crafting and exclusive materials. Combining avant-garde design with extravagant materials and immaculate execution, each frame is a work of art.

For A Life Less Ordinary.

| | |
| --- | --- |
| Frame Colour: | 24k Gold |
| Lens Colour | Blue Gradient Zeiss Lenses |
| Model Name | Limited Edition 1 |
| Model Number | Claw Voyage |
| Colour Code: | Gold Grey Lenses |
| Frame Size: | 59mm |
| Bridge Size: | 15mm |
| Temple Length: | 145mm |
| Lens Width: | 59mm |
| Frame Shape: | Aviator |
| Frame Type: | Full Rim |
Qualified Optometrists and Dispensing Opticians
i2i Optometrists is registered with the General Optical Council to provide Eyecare Services. Our Senior Optometrist, Mr Stephen Gallagher holds a Honours Degree in Optometry and further Post Graduate Qualification in Independent Prescribing. This allows Mr Gallagher to clinically assess and prescribe medications for many acute eye conditions. Stephen was one of the first Optometrists in Scotland to achieve this qualification and continues to keep up to date with developments and Continuing Education. Mr David Wishart holds a Diploma in Dispensing Optics and works at our Howard St branch. David has more than 20 years experience in his field and is expert in ensuring your eyewear is to the very highest standard.
Scotlands Largest Choice of Eyewear
Our i2i Optometrists practice at 153 Howard St holds the largest selection of eyewear in Scotland with more than 5000 frames to choose from. We stock brands such as Ray Ban, Tom Ford, Chanel, Dior, Prada and many other well known names. In addition our eyewear buyers have selected more niche collections such as Dita, Cutler & Gross and Face à Face. We are confident that you will find several frames to suit your face shape and style. We also cover all price ranges from entry level more functional styles at lower price points to the finest eyewear available.
Lens Technology at its Best.
At the end of your eye examination our Optometrist will give you a recommendation as to whether you require glasses or not. Also if you currently wear glasses you will be able to experience how much difference a change in lens power will improve your level of vision.
We offer lenses from all the best suppliers such as Zeiss, Essilor, Hoya and Nikon. You can choose from entry level options right through to custom/bespoke varifocal lenses. For those with higher prescriptions there are thinner lens materials to help ensure your lenses are thinner lighter and provide the best possible vision and comfort.
Zeiss OCT ... Next Level Eye Examinations
This is a hospital standard carried out at i2i Optometrists Howard St. using the latest Zeiss equipment.
Many common eye diseases can develop without significant symptoms. Even if your vision and eyes appear perfectly fine, it's useful to gain a full scan of your retina using an OCT scanner. This test takes a few minutes and is comfortable to undertake. In particular, an OCT scan can help to detect eye conditions like glaucoma, diabetes and age related changes to the retina.
Our Optometrist can look more closely at just how healthy your eyes are. The results are shown in 3D and provide much more information than ever before. The OCT examinations is part of the Free Eye Exam service at i2i Optometrists.
Glaucoma Visual Fields
All eye exams for those over the age of 60 include a detailed measurement of the visual field using the gold standard Zeiss Humphrey Field Screener.
This instrument is the same as used in Eye Hospital Departments. It is used to detect any visual field defects such as may be present in the early stages of Glaucoma or other conditions.
Our Optometrists can also monitor any visual field changes over time to assess progress. In conjunction with OCT this provides us with a comprehensive set of data to help ensure that your eye examination is as comprehensive as possible.
Howard Street Lens Lab
Our practice at 153 Howard St has an in house lens lab. Our Senior Technician, Cathal Mc Cauley has more than 20 years experience in this position and is experienced in all aspects from precision varifocal lens settings to pain staking assembly of fine rimless eyewear. Our lab is equipped with the latest, most accurate lens cutting equipment from Nidek and Essilor. Modern varifocal lenses are custom manufactured by Essilor and Zeiss and fitted to your chosen frame on site. However, we also hold a wide stock of single vision lenses and can offer an Express 2 hour service for many prescriptions.